Latest Additions (8/1/2002)
Warwickshire Closed Championships Draw 2001/2002
Leamington Championships Results 2000/2001
Warwickshire Closed Championships Results 2000/2001
Leamington Championships Results 1999/2000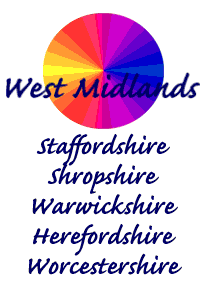 West Midlands Region

Welcome to the West Midlands Web site. The aim of this site is to provide the regionís table tennis community and other interested parties with information as to what events are happening, current results, who we are and how to get in touch with us.

---
The Site has moved
Some background to the move of address, our previous supplier of service dropped out of the web hosting market at very short (= no) notice. For this reason the site has moved to its new home on tripod.com
Anybody Fancy running this Site
The ETTA West Midlands site is rather inactive mainly due to pressures of other TT activities on the Regional Development Officer, Regional Coaching Chair and Regional Chairman.
We would welcome a volunteer to take over updating the site and to kick us for the information which we all have but don't have time to add to make this a really useful site.
The e-mail links for all the Regions officers are on the Contacts page - if you are interested please contact any or all of us.